The Global Production of Large-Size TFT LCD Panels Will Maintain a CAGR of 7% Over The Next Five
Mildtrans-Evan wholesale-laptop-screen.com 2017-12-15 09:34:35
The Global Production of Large-Size TFT LCD Panels Will Maintain a CAGR of 7% Over The Next Five Years
    
  2018-2022 annual global large-size LCD panel production CAGR of 7%. Digitimes Research, a market research firm, expects global capacity of large-size (9-inch and above) TFT LCD panels to maintain a CAGR of 7% over the next five years due to the market's strong performance for public displays and automotive panels Demand, as well as the trend of large size tablet PC.
    The television, monitor and notebook markets have matured and their respective global panel shipments are expected to be 1%, -2.3% and 1.1%, respectively, between 2018 and 2022.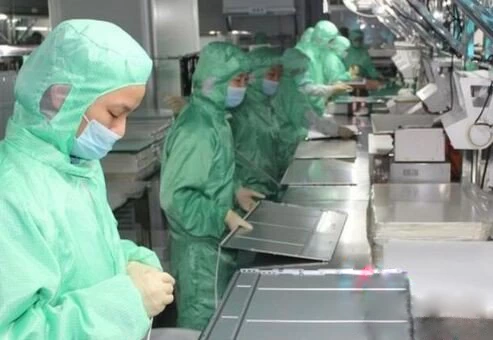 In comparison, worldwide shipments of 9-inch and above panels for tablets are expected to grow at a 5.2% CAGR over the same period, while shipments for public display and large-size automotive panels are estimated at 8.7% CAGR. Driven by shipments growth in the latter two segments, the overall shipment of large-size LCD panels is expected to maintain a CAGR of 1.3% over the same five-year period.
    In 2018, shipments of large-size TFT LCD panels from Taiwan suppliers (excluding Sharp) are expected to drop by 0.8% YoY to 235 million units, and its global share of total capacity is expected to decline due to some new developments in mainland China The production line will be put into production next year.
    As far as the global LCD panel production capacity is concerned, mainland China is expected to be the first in the world to reach 34.2% for the first time, including the establishment of Korean manufacturers and Foxconn Group. Digitimes Research predicts that mainland China will account for 49.9% of the global production capacity by 2020 and 53.5% by 2022 as more panel plants in China covering 8.5 generations of generation and above are gradually launched.
    In terms of vendor capacity, Foxconn, which includes Multinational, Sharp and two 10.5 OEMs that will build in China and the United States, will lead the industry by 2022, followed by BOE, Samsung Display (SDC) and LG Display LGD). LGD lags behind the main reason for the SDC is that it will be part of the 8.5 generation LCD panel and above production capacity conversion to support OLED TV panel production.