Taiwan LED Factory Recently Invariably Called Out The Fastest LED Mini LED Shipments in The Second Q
Mildtrans-Evan wholesale-laptop-screen.com 2017-12-20 10:04:54
Taiwan LED Factory Recently Invariably Called Out The Fastest LED Mini LED Shipments in The Second Quarter of Next Year
  LED factory in Taiwan recently invariably shout out the fastest LED Mini LED shipments in the second quarter of next year, so that the downturn in Taiwan LED factory operations appear dawn, hoping to break the Samsung cell phone display a single dominant OLED, Taiwan Factory is actively seizing this Block cake.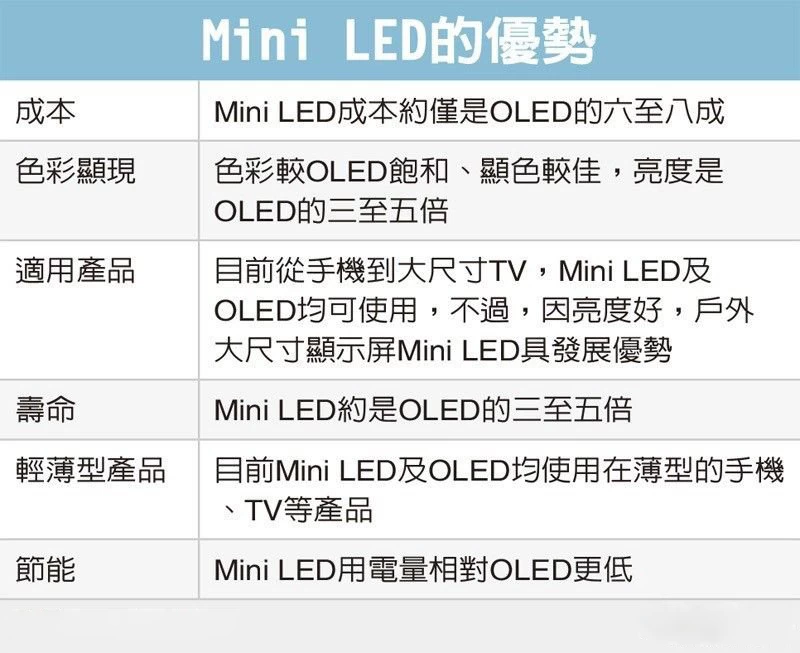 LEDinside vice president of research Yang Fu Bao estimated that the future direction of Mini LED covers television, mobile phones, car panels, etc., 2023 Mini LED output value of at least 10 billion US dollars (about 30 billion NT).
    Many companies around the world are actively developing Mini LED related applications. The chip factories include Jingdian, Ronda, Sanan, Huacan, etc .; the packaging plant has a billion light, Wing Chong, Wang Qi, Seoul Semiconductor, etc .; driver IC plant with accumulation, Ruiding Wait.
    Zhou Mingjun, general manager of Jingdian, pointed out that the company and its customers have estimated that about 6,000 mobile phones are currently estimated at 3,000 to 5,000 chips. Customers expect the chip usage to be halved and the backlight effect unchanged, Meet the demand, we can mass production.
    Epistar top estimates Epistar Mini LED research and development in the end of this year to early next year will have concrete results, the fastest next year before the end of the second quarter can be put into production, very optimistic about the future shipping outlook.
    AUO's Ronda, a group of Wing Chong, the two LED packages as the main, although the relatively low profile in the Mini LED layout, but Lunda had said that Mini LED-related technologies and products hope to launch in the second quarter of next year , Wing Chong and lock the Mini LED TV backlight as a field.
    Wang Qi, deputy general manager Zhuang Feng-hui said the company has confidence in the Mini LED technology, the company in the Mini LED technology has been pushed up in the final stage, the fastest shipments in the second quarter of next year.